Innovation Is No Longer a Gut Feeling and a Matter of Luck
The startup failure rate is characteristically high and there are no signs of diminishing. Of the hundreds of new start-ups that launch every day, 90% don't manage to survive past their first 12 months because they don't acquire enough regular customers. According to Steve Blank, American entrepreneur and author of the bestselling "The Startup Owner's Manual", most startups do not fail due to a lack of accurate product development, but rather because the founders are unable to attract the proper audience for their business idea. And yet among established companies, even with more financial resources available than startups, there is a perpetual failure rate for business innovations above 80%. A contributing factor to this is that it is a challenge for many businesses to focus on developing their core products while simultaneously finding ways in which they can capitalize on new opportunities that may come along as they slowly decline in other areas on an almost yearly basis. Basically, it's difficult to survive when one is distracted by an over-abundance of responsibilities at home base. What many corporations must do now is to develop towards a true ambidextrous organization so that they are able to manage simultaneously both familiar and new types of innovation.

What Is Ambidexterity? What Is an Ambidextrous Organization?
To give an in-depth definition here and to show, what characterizes an ambidextrous organization, we'd like to quote Andrew Binns, Managing Principal at Change Logic talking about ambidexterity in one of our "Let's Accelerate!" Podcasts:

Summarizing the above-mentioned aspects by Andrew, ambidexterity is the ability to handle innovation activities in the core business as well as innovation outside of the core business "ambidextrously".
Makes sense? Well, but how do we analyze customer needs and make sure we are on the right track?
We find those ways through testing, thinking and simply building relationships with our customers so that their perspectives come through loud and clear!
In the light of current and emerging megatrends, we are experiencing exciting times with many challenges. One key way to handle these challenges is doing what you set out to do in the first place: think about your customers. Serving a good product or offering great service means nothing if your customer doesn't feel that it truly adds value. All too often, companies jump straight into their solution-based approaches and miss their chance to identify the customers' problems and aspirations before they become more infused with assumed problem space.
Knowing all those challenges, how can corporates overcome them?
At Bosch Innovation Consulting, we have identified several success factors to support driving innovation in a corporate environment. One of those is the Innovation Portfolio Management. It's crucial to launch an approach that considers both, new and current products, or services. Doing so can help your organization to live up to its potential. But without a bold innovation strategy, it's easy for innovation teams to get overwhelmed and lose focus. That's why it's essential to have clear objectives while staying open to new opportunities along the way.
Furthermore, it is key to establish an organized and comprehensive innovation development framework. It is important for systematic organizational frameworks to provide effective strategic support for your innovation initiatives. At Bosch, this framework, called the "Bosch Innovation Framework" provides a backbone for innovation projects and builds on the entire lifecycle of an innovation project. This framework consists of eight stages as represented in the visualization.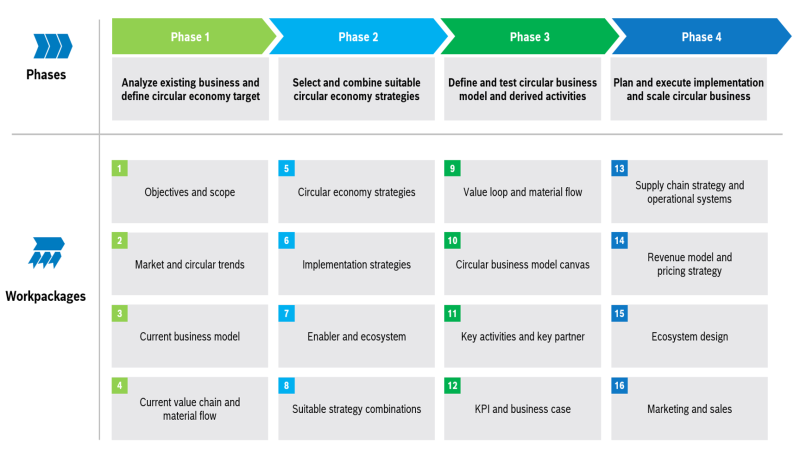 In general, especially the validation phase is of major importance because way too often corporate organizations invest in new business ideas without sufficient understanding of the customer needs and expectations.
That is why it is so important to validate ideas and find out if they meet real customer must-have needs and if ideas can be converted into a scalable and profitable businesses. Doing so will help corporates to save time, money, and ensure a capital-efficient resource allocation. The validation shall be done through leading innovation methods such as design thinking, lean startup, or business modeling. One efficient approach we at Bosch Innovation Consulting provide is a structured validation program, which we launched together with our close partners at UC Berkeley in 2017 called the Bosch Accelerator Program. This Validation Program helps take months off the timeline when testing innovative business models in a fast and structured way. The program combines leading innovation methods and provides innovation teams the opportunity to test business ideas in a capital-efficient way. In addition, the program provides corporates the opportunity to reduce innovation risks in building new ventures through a customer-centric approach which shall be cultivated within companies which strive for modern innovation management.
Innovation is no longer a gut feeling and a matter of luck. By applying a structured and evidence-based innovation approach, corporates can bring their innovation initiatives to the next level.
Discover more about Bosch Innovation Consulting and how we can support you in driving your corporate innovation initiatives to their maximum potential on our website or get in contact with us