Business Model Maturity Assessment
Create a More Efficient Innovation Portfolio
Assessing the maturity of a business model helps both the team and the partners and stakeholders involved to identify the areas that should be further validated before scaling the business model. It is also important for one's own company to know exactly in which phase projects are at the current stage in order to be able to create an efficient innovation portfolio. To make this possible, it is first necessary to understand in which business areas most urgent action is needed. A Business Model Maturity Assessment can help you achieve precisely that.
Preparation of the Assessment
Your Innovation Team will conduct a Self Assessment to ensure an optimal preparation of the assessment. We will guide the teams with all relevant preparation material for this self assessment.
Execution of the Maturity Assessment
Together with the experts from Bosch Innovation Consulting you will go through the different elements of your assessment template (see below) and discuss the status of each element critically. We will guide and challenge you through this assessment to make sure that we really dive deep into your business model. The assessment itself takes around 3-4 hours.
Recommendations & Next Steps
After the Maturity Assessment, the project team receives a detailed written report including recommendations for next steps, highlighting blind spots.
Our Assessment Template
This Dashboard will be the basis for your Self Assessment and the Execution of the Assessment with the Bosch Innovation Consulting Experts.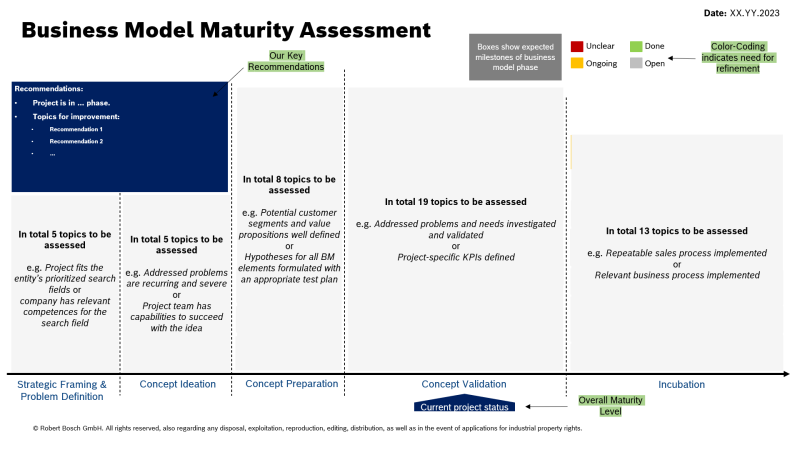 Business Model Maturity Assessment supports you in answering the following questions
You have innovation projects that do not generate the expected impact?

You don't know which innovation projects are worth continuing and which ones should be stopped?

You are insecure about the maturity level and progress of your different innovation initiatives?

You don't know how to allocate your budget to maximize business impact?
Business Model Maturity Assessment
We create value for our customers by…
making clear, in which stage of the innovation process (according to the BIF) the innovation projects are and highlight the needed support to further mature the initiatives
identifying which areas of the business model have sufficient evidence of validation and which areas still lack more
supporting in creating a more efficient innovation portfolio by enabling capital-efficient budged allocation
Sounds good?
Get in touch with us via our contact form or Innovation.Consulting@de.bosch.com to get started!