Innovation Maturity Quick Check
Determine the maturity of your innovation landscape and define concrete fields of action
Innovation is of fundamental importance for the growth and future viability of a company. However, to create the optimal framework for innovation activities in your company, you need more than just a room with colorful chairs. Assessing the maturity of your innovation landscape will help you understand which screws you need to turn.
How to Build an Ideal Innovation Context?
"Building an innovation lab to be more innovative is like washing hands to stay healthy. Undoubtly helpful, but by far not enough." (Dan Toma, Co-Author of "Corporate Start-ups")
In order to establish innovation holistically in the company, different dimensions need to be designed.
We take a closer look at the following dimensions to assess the maturity of your innovation landscape: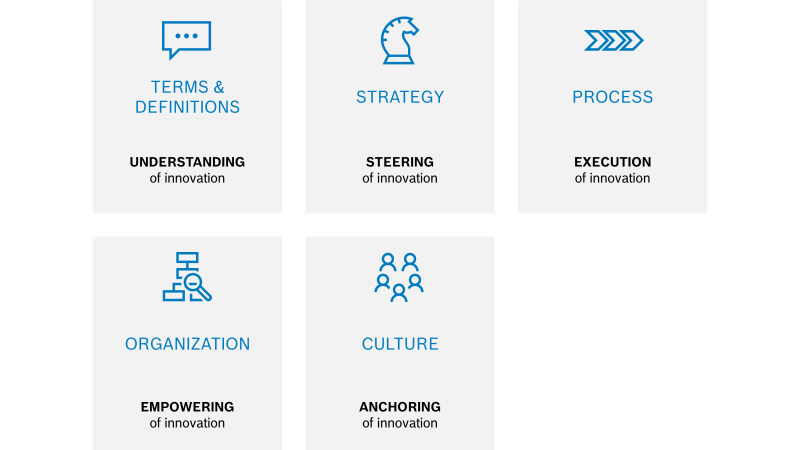 What you will get
How a Maturity Quick Check can support you in identifying your fields of action
With our Innovation Maturity Quick Check you get a professional and objective perspective on your innovation management capabilities enriched with Bosch best practices and lessons learned on the relevant dimensions as well as recommendations on how to proceed.
By standard, the Innovation Maturity Quick Check is conducted in a 2-day workshop, which can be adapted to your individual needs.
Your concrete outcomes: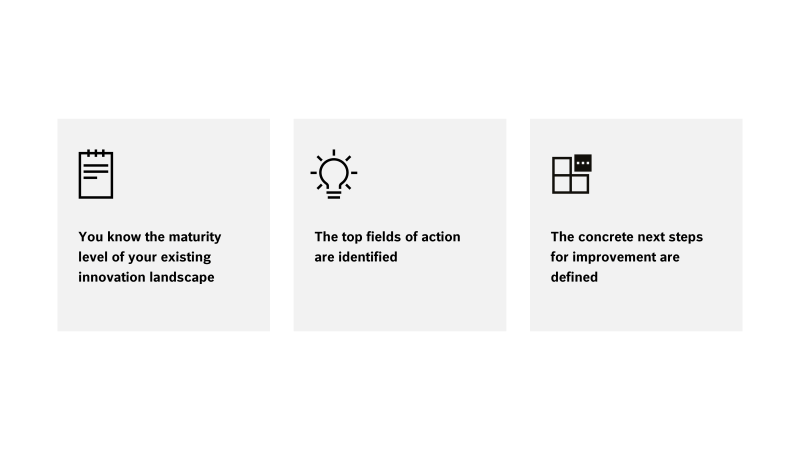 Furthermore, we can show you ways to solve these weaknesses and support you with additional services such as our Validation Program or our workshops and trainings.